The Best Gift For Your Girlfriend, Wife, Daughter, Granddaughter and Mom
The sunflower locket opens up to reveal the loving words "You Are My Sunshine"
This incredibly unique necklace serves as a symbol of strength, health, happiness, vitality, and prosperity, making it the perfect gift for the sunshine of your life!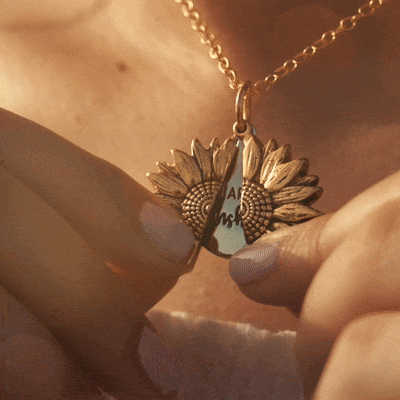 Did you know that Sunflowers are one of many flowers that carry and provide vital nutrients that are extremely helpful for keeping bees alive?
Wear it as a daily reminder of strength, positivity, and a sense of pride knowing that you contributed to a worldwide cause that impacts us all.
✨SPECIFICATION:
Style: Minimalist

Materials: Metal, Copper plated
Adjustable length

Handmade item
A delicate sunflower charm necklace is a perfect gift for girlfriend, wife, sister, daughter, mom, bridesmaid, and friends on graduation, birthday, Mother's Day, Christmas, Valentines Day, wedding anniversary. Simple and cute! Treat yourself or someone special to this stunning jewelry!
🚀 OUR MISSION
It is with our full hearts that we passionately make only exquisite designs and unique jewelry that marks the most precious celebrations in life, keeping the lovely memories alive in such dainty pieces. 
It is only the kindest thing to share, and so we're happy to say that Every Purchase Gives Back!
With your purchase from us, we're able to help kids who need food, clothing, and better education. We donate 10% of our profit to those kids in the hope to give them a chance at a better life.
💯 GUARANTEE
Thank you for choosing our home in thousands of stores. We sincerely welcome you. If you have a problem, we will solve it immediately.
If you have any issues with your item, please contact us for a no-questions-asked money-back guarantee!!