Seamless Lift Bra Shelf Fleece Cami shapes & supports your girls while keeping you warm through the winter!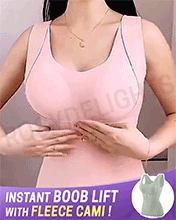 Features front closure support and removable 5D memory cups that lift accentuate your girls with exceptional cushioning comfort, breathability, and softness that prevents chafing and skin irritation.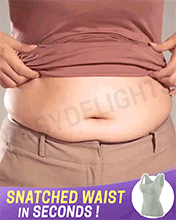 Made with ultra-soft heat trapping fleece lining, it will breathes and moves with you seamlessly to deliver next-to-skin cold insulation. With a knit-in panel that provides firm control to your mid-section, it is perfect for base-layering under any clothing!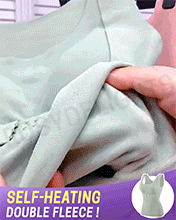 FEATURES
Supportive
It lifts and accentuates your girls against sagging, creating a perkier, smoother shape with full support.

Comfortable


Features removable 5D molded memory cups that made from natural latex without any synthetic fillers blended in, it lifts your girls with exceptional cushioning and softness all day long.
Bra & Cami 2-IN-1
Heat-Trapping
Firm Back & Tummy Control
Stretchy, Wireless
Breathable
Never Ride Up
SPECIFICATIONS
Color: Beige, Black, Light Mauve, Mint
Size: L , XL, 2XL, 3XL
PACKAGE INCLUDES
1pc x Seamless Lift Bra Shelf Fleece Cami