🔥🔥【Transparent Design】 - 100% totally transparent for full facial visibility. and Show off your beautiful makeup making, lip-reading and making out the speaker's facial expressions possible.
🔥🔥【Greatly Breathable】- Upgrade with double breathing filter vent, help breathe better. No Fogging! No Fogging!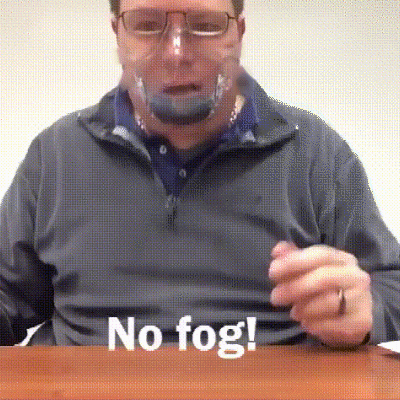 Highly Breathable
: No more stuffiness! This shield is designed with comfortable ventilation windows on the sides of your face, enabling you to breathe comfortably as per usual! 
Stylish and Comfy
: It's made from an ultra-lightweight PC. The ergonomic design and its elegant aesthetics make it an accessory for daily use for any occasion and time of year.
Fog-Proof & Waterproof

:
 Enhanced with a waterproof anti-fog coating, this shield provides you with the perfect crystal clear view at all times, under any weather!
Reusable

:
 Made of high quality and transparent Polycarbonate, they are reusable, just wash them well with soap and water and dry them with a soft towel.
Premium Materials

:
 This shield is created with BPA-free food-grade PC materials, perfectly safe and hygienic for reusing and recycling!
Protect yourself and protect others
 

Specifications:
Mask: PC high quality face mask
Material: PC+ABS+ filter sponge filter
Colors: red, purple, blue, black and gray
Mask dimensions: 11.5 x 13 x 6cm
Description:
New edition

: upgraded face protection cover, fashionable and handsome.

PC

: PC material, can wear glasses, can wear most glasses.

Full-cover transparent mask:

 transparent, light, comfortable and breathable, which is an ideal choice for protecting the mouth and nose from debris and so on

Professional protection: 

The reusable mask protects the face from external aggression in a large area from glasses to chin, and fully protects the face from water drops, grease and dust.

One-size-fits-all

: One-size-fits-all shapes protect everyone-very suitable for family, office and warehouse workers.

Widely used:

 suitable for both men and women. Applicable to public places or daily use such as kitchens, canteens, homes, kitchens, hotels, fast food restaurants, beauty salons, kitchens, restaurants, cake shops, shopping malls, tattoo shops , etc.
Package includes
1 x No Fogging Transparent Face Shield