FILL IN BROWS PERFECTLY
EVERY TIME LIKE A PRO!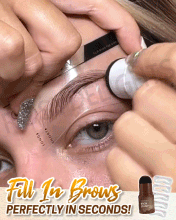 Designed for effortless, flawless application, is a full-pigment, waterproof, transfer resistant formula that helps to create bushy brows in seconds! Blendable & buildable, it comes with 10 stencil shapes to ensure you look fabulous with the perfect brow every time!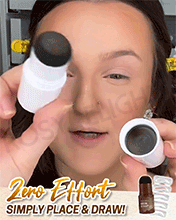 Super easy to use and perfect for beginners, just stamp the brows over the stencil to achieve even, naturally matte brows with clean edges in 5 secs!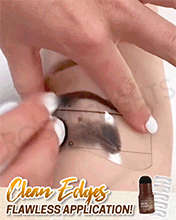 FEATURES
Fill in Brows Perfectly
Place it and draw naturally filled-in eyebrows with zero effort! Perfect for beginners, it gives you the easiest, fastest way to shape eyebrows like a pro.
Long-Lasting, Waterproof
The buildable, transfer-resistant formula will leave a naturally matte finish that lasts through the day.
Perfectly Shaped Border
No more uneven eyebrows! The pre-printed stencil helps you to stamp on sparse area effortlessly with no mistakes.
Quick & Easy to Use
Perfect for beginners to create good-looking brows, this kit will turn an 15 minutes-long filling-in process into seconds with even application.
Reusable
Durably made with waterproof PVC for long-term use, just rinse it with cleansing with zero residues!
10 Shapes for Selection
Suitable for Hiding Hair front & Bald Spots
HOW TO USE
Place the stencil over your brows
Stamp your brows over the stencil
Remove the stencil and that's it!
SPECIFICATIONS
Stamp Color: Dark Brown, Medium Brown, Natural Gray, Nearly Black

PACKAGE INCLUDES
1 x Brow Stamp
2 x Mini Brushes
10 x Brow Shaping Stencils