✪
KEEP YOUR HOME MOUSE-FREE
 ✪
✪
100% SAFE ✪
✪
CATCH 4X MORE MICE THAN THE OTHER TRAPS

✪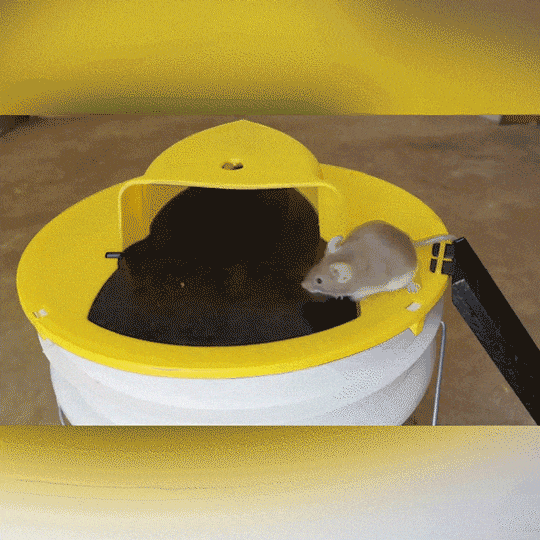 ✔︎ CLEVER CONCEPT: Eliminate mice with this flip N Slide Mouse Trap, a no-kill mouse & rat catcher equipped with an innovative, flip and slide design that's high-efficiency, hygienic, and humane. It resets after every catch, so you can just let it free your space from all rodents in one go, without any work on your part. Got a mouse or rat problem? Not a problem.
✔︎ PET & CHILDREN FRIENDLY: We all know how catching and killing rodents can get ugly. Harmful substances can be damaging to our own health, many traps can hurt our pets or children. Say goodbye to messy and unsafe mouse traps that don't work. This non-lethal mouse & rat trap requires no chemicals or poisons. It's clean, safe, and practical. 
✔︎ SIMPLE SETUP: Install the device on top of any bucket or container, bait the trap with peanut butter or other food to attract mice or rats, and watch the trap do its job. It self-resets, so you can catch mice over and over again, making sure you don't miss any that might be lurking around your home. 
✔︎ STRIKE ANYWHERE: Our trap's simple design makes it easy to install anywhere. Set it up in mice-infested barns, garages, and sheds, indoors or outdoors. Take the war where it is! So convenient!
✔︎ MOUSE-FREE HOME: The Flip N Slide Mouse Trap is a must-have for anyone looking for an effective way to catch mice without having to kill them. This reusable, rodent bait station is made of high-quality durable plastic, guaranteed to last for years and years.
✔︎ DESCRIPTION:
✔︎ PACKAGE INCLUDES :
1 x Flip N Slide Mouse Trap