The health and comfort of your bunions, spine, muscles, and joints are now at your feet with these innovative Comfy Bamboo Anti Fatigue Gel Diabetic Slippers!

Using these great anti-fatigue gel slippers for cooking, cleaning, walking, or any other activity that involves standing will turn not only into pleasure but also into a way to save the health of your spine, legs, ligaments, muscles. or joints.
Combine any household activity with the relaxation and tranquility of the whole body with these wide width slippers!
Forget the middle or spine pain and especially forget the embarrassing smell of foot sweating!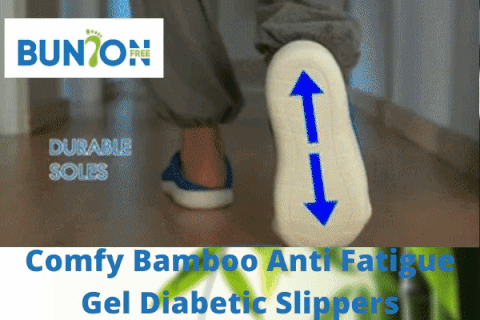 We know that very few shoes offer true comfort and protection. They aren't soft enough, they're not breathable, they're too narrow, the list goes on... It's kind of hard to find the holy grail of shoes. But today's your lucky day because you, yes you, just stumbled onto the Holy Grail of Shoes!
Our Anti-Fatigue Gel Slippers are the first outdoor slip-on shoes with built-in anti-fatigue gel technology. Created using ultra-flexible bamboo pieces, this is the best of nature and science combined! Through the effort of scientists and inventors all over the world, these slippers have been created with just one goal in mind: your feet.
Comfy Bamboo Anti Fatigue Gel Diabetic Slippers are composed of 4 layers:
1. The upper part is made of BAMBUS material using 3D mesh technology, which allows air to circulate completely, and which eliminates perspiration and any unpleasant odor,
2. A layer of memory foam, which reduces foot stress.
3. Vibration absorption gel.
4. And a TRP sole that increases slip resistance.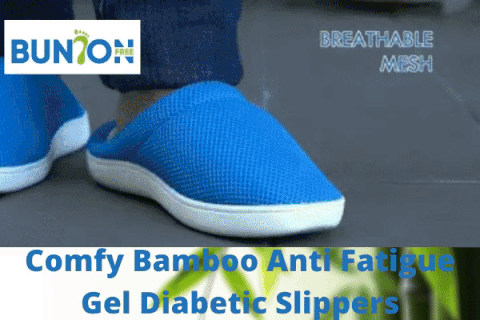 FEATURES:
Comfortable & Stylish

- These shoes are the

perfect combination of comfort, durability, and style. A hybrid, if you will- all at an affordable price point.
Anti-fatigue Gel Technology for Shock Absorption

- Our slippers help you get back to walking naturally. The built-in absorbent gel absorbs the impact, just like the ground would have if you were a stone-age hunter-gatherer returning to your camp after a close call with a sabertooth tiger (running errands used to be so much more exciting back in the day).
The natural lining ensures total flexibility

- Natural is better. Surely you know of the unbelievable flexibility

that nature has wrought upon the lowly giant grass plant bamboo. This incredible flexibility and resilience

is the secret ingredient in the construction of our

incredibly comfortable slippers.
Super breathable

- Imagine being trapped in a stuffy, smelly room that only smells worse as the days go on. That's the daily grind for your poor feet in normal shoes. But with Anti-Fatigue Gel Slippers,

your feet can breathe! Keep them

comfortable, cool, and - most importantly - not stinky
Best Slippers if you are looking for diabetic shoes, bunions correction shoes, plantar fasciitis shoes, or other feet problems.
Beneficial effects of bamboo:
Regulates temperature and humidity
Antibacterial and antimicrobial
Deodorising (anti-odour)