We care deeply about providing all consumers with comfort, fit, and style that will stand up to countless daily activities! These Canvas Casual Women's Bunion Shoes are one of the most comfortable shoes for bunions!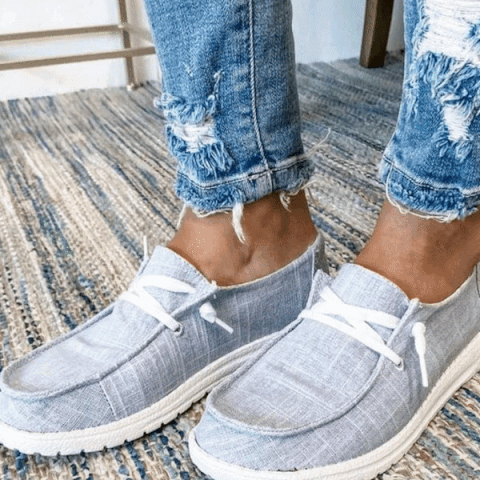 The Canvas Casual Bunion Shoes are not just good shoes to wear after bunion surgery, but also shoes for bunion feet! If you're suffering from hallux valgus or tailor's bunion, also called bunionette, these stylish bunion shoes are comfortable enough to offer you extra flexibility to allow your feet to move more naturally!
Perfect for bunions, triangle-shaped feet, and if you've had a bunionectomy and need a wider fit.
FINE DETAILS & BENEFITS:
BUNIONS? HAMMERTOES?
A wide & roomy TOE BOX offers a comfortable, non-binding fit for the front part of the foot and toes, and eases pressure on bunions, hammertoes Morton's Neuroma & swollen feet.
WEAR WITH ANY BUNION SLEEVE:
If you didn't have bunion surgery, but you need to improve and protect your bunions, you must know that these are the best women's shoes for bunions! Wear our Canvas Casual Women's Bunion Shoes with any bunion sleeve or bunion splint without pain!
For extra comfort, use insoles with arch support! These big toe shoes are wide enough to let you use an insole if you also suffer from plantar fasciitis!