Achieve perfectly poached egg easily and hassle-free with this Microwave Egg Poacher! Light and low in calories, poached eggs are so much more than a healthy breakfast. Try them with a roasted haddock fillet or a warm lentil salad!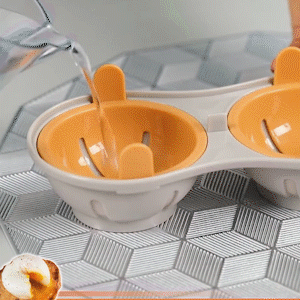 This egg poacher allows you to perfectly poach two eggs in the microwave at a time, in minutes with no hassle!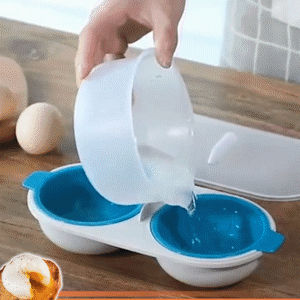 Just fill the Egg Poacher with water, crack the eggs in, place the lid on and put it inside the microwave for about two minutes. Now you have the perfectly poached eggs!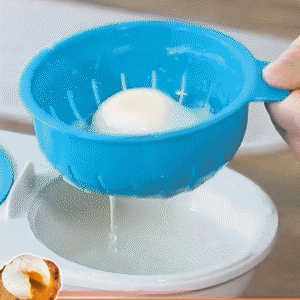 FEATURES
Heat Resistant and Microwave Safe.

Easy to Clean.

High Quality, Food Grade Material:

BPA-free and non-toxic.
HOW TO USE:
Simply place the strainers into the tray and half fill trays with cold water. Crack egg with the integrated egg cracker. Drop each egg into the tray, cover with the lid to keep your microwave clean.
Microwave them for 2 minutes at 50% power with a 1000 watt microwave, or 1 minute with full power. You may experiment with the microwave settings for the size of eggs you use to get exactly what you want. It is repeatable and fast.
Enjoy the perfectly poached egg with creamy yolks and firm whites. You can also serve them over greens, topped with Hollandaise, or poached eggs on toast!
SPECIFICATIONS:
PACKAGE INCLUDES
1 x

Microwave Egg Poacher