1-year warranty.
You can return items for a refund or exchange within 180 days.
Fast refund>>100% guaranteed refund.
Shipping>>Worldwide Express Shipping Available.
Instantly make dumplings with beautiful shape✅No skill & even if you're a beginner✅Enjoy delicious dumplings with your family🥟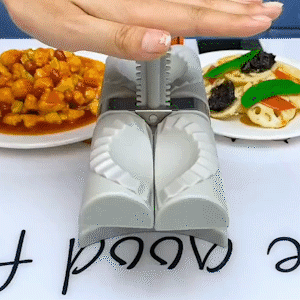 🥟VERSATILE: Super easy to use, even for children. Dumpling molds and knives can be used to make dumplings, pies, dumplings, wontons, ravioli and more. Accompany your child to make pies and dumplings happily and conveniently.
🥟SAFE AND FOOD-GRADE: Made of high-quality materials, durable, non-slip rubber pads on the base are stable, durable, easy to use and clean, just rinse the flour with water.
🥟MAGICAL USES: Pack two at a time, making it easy to make dumplings. No tricks required, just press for efficiency. . Even if you are a beginner, this dumpling maker easily allows you to make beautiful wavy dumplings in a short time, so that you will not be in a hurry.
🥟EASY TO USE: put some flour to prevent sticking, and then put the dumpling skin on the machine. Finally, press into dumplings. Making dumplings is more convenient and efficient! Enjoy delicious dumplings together. This perfect dumpling maker can be shared with family, friends and kids.
🥟ENJOY DIY TIME: You can DIY dumplings with family and friends at home or at parties, then enjoy making your own delicious handmade food and have a happy time.
Specifications:
Material: 304 stainless steel + PP
Single cell diameter: 8.5cm
Height: 17cm
Width: 20cm
Package includes:
🥟Double Head Automatic Dumpling Maker Mould * 1