Our 5-in-1 pant hangers have a collapsible design, which effectively frees up more space for storing clothes in your closet.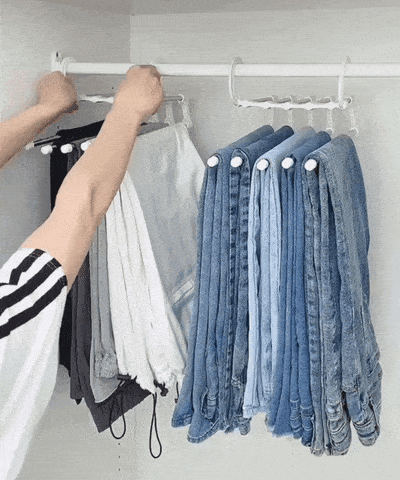 KEEP ORGANIZED - Our space-saving Magic Hangers are the best way to organize and declutter your closet and wardrobe.
FREE UP SPACE - Fit up to 5x more clothes in your closet, allowing you to maximize your closet space.
BROWSE WITH EASE - Our collapsible design lets you display your wardrobe neatly and conveniently, so you can browse through your entire wardrobe in seconds.
CREASE AND WRINKLE-FREE - Our Magic Hangers are designed not to crease your pants. They keep your pants wrinkle-free and ready to wear!
Two hooks in each side design which can hold pants steadily, no worry about leaning.
It can hold more than five pants in a time, put your pants to this organizer, it would bring you a very nice mood during a day not only because the neat and tidy of your closet but the folds free of your lovely pants.
Give your ironed pants to this hanger to keep them neat.